About Bet Dwarka
It is located at Gulf of Kutch, Gujarat. People have a lot of faith in this temple. Each year millions of followers visit this temple in larger number. This indicates the infinite faith of people in bet Dwarka temple. The primary deity of this temple is Lord Krishna. People celebrate Janmashtami in this temple with a lot of excitement and faith, this celebration continues for a week or so.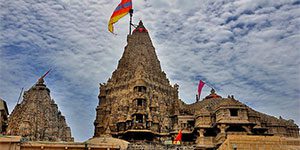 Bet Dwarka
Bet Dwarka is famous as the golden city of Mahabharata. Whenever people plan their trip to Dwarka, this is the place which is visited by most of the people. Bat Dwarka is also known as Beyt Dwarka or Shankhodhar. This place is dedicated to Lord Krishna. According to religious belief, Beyt Dwarka used to be the house of Lord Krishna when he was a king Of Dwarka. Lord Krishna used to stay in the place with his entire family.
Bet means the gift and this place is famous due to the gift which Lord Krishna has received from Sudama, Lord Krishna's friend. Bet Dwarka is one of the highly popular temple intemplesity.
Apart from this, there are several other things or places to see in the city. It involves Sri Keshavrajji temple, Abhaya Mata temple, Hanuman Dandi, other small temples, Jain temples, Dargahs etc. The Darshan timings of Bet Dwarka temple are different from the other temples.
You can have darshan of Lord Krishna in the morning as well as in the evening.
In the morning, the temple opens at 9:0 AM and closes at 01:00 PM.
In the evening, the temple opens at 03:00 PM and closes at 6:00 PM.
How to reach the temple?
It is very easy to reach the temple. For this, you have to first reach the Dwarka city. You can reach the city by air, by train, by bus or by taxi also. From here, you can also take the bus or taxi to Bet Dwarka temple.