BIRDS IN GUJARAT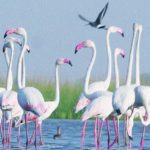 The azure changes its colour when they stretch their wings high in the sky; yes its birds. They enjoy while they fly and when we see them flying, we also feel happy. It's really amazing to see varieties of birds of different colours and different species sharing one sky. It feels like that the birds appear like sprinkled hues as the blue sky turns into a painter's canvas. In India, you can the varieties of birds. To enjoy Birding Tour India is the best place as its vivid geographical riches allow birds to propagate here. So if you want to delight yourself and experience the glee of bird we are here, providing you with the best tour packages to Gujarat.
There is a lot of birding Gujarat Tour packages provided by Gujarat Package for Gujarat. In this tour, you will watch a lot f colourful bird species found in India. In fact, as per customers need and demand, we have expertise in crafting custom packages. Basically, to enjoy a comfortable and memorable birding tour to Gujarat, it's our duty and responsibility to provide the best package.
To visit one of the bird-watching sites across Gujarat, Get in touch with our tour planner today.
SOCIAL LINKS
[aps-social id="1″]