Mouth Watering Cuisine of Gujarat
The cuisine of Gujarat is in many ways unique from other culinary traditions to be seen in India. In keeping with the Indian trend, however, a lot of people of Gujarat are vegetarian and so is the most popular Gujarati cuisine. This extensive vegetarianism initially jumped from religious ideologies and beliefs of the region.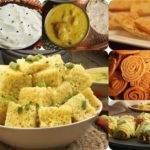 The cuisine of Gujarat in India is a mix of beautiful tastes and textures; typically provided in a silver plate, the Gujarati thali consists of rice, chapattis, dal, vegetable curry, saag, and pickles. A number of foods are prepared in Gujarati houses, and the body of gastronomical delights that we identify as Gujarati cuisine is a variety of different dishes originating in different parts of Gujarat.
With all the species, herbs and the flavours, dishes of Gujarat are worth enjoying. They are delicious, delightful, and yummy and can surely tickle one's taste buds. Those who are on a holiday to Gujarat should enjoy the delightful tastes offered in the state.
However, a few components are more commonly to be discovered. Ghee (purified buttermilk), sugar, coriander, rotis made of bajra, maize, gram flour, methi, chat masala, etc. are common ingredients of the cuisine of Gujarat. Cuisines of Gujarat have appeared from the different areas who have settled in the state.
SOCIAL LINKS
[aps-social id="1″]