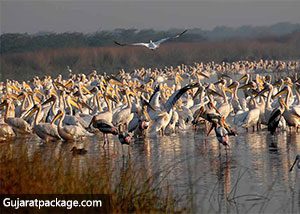 Enjoy To the Fullest After  Visiting  This  Sanctuary
 There are many sanctuaries that you might have visited but this one is indeed the best. You will realize that when you will visit and see it on your own. You can either go with your family or you can also visit it with your colleges as well. One thing is sure that enjoyment will be total and that too without any doubt. This sanctuary is situated in Kalyanpur taluka and is a protected area. It was established in the year 1988 in the month of November. The actual size of this park is around 332.87 hectares.
Be careful when you visit Gaga Wildlife Sanctuary as you need not spread undue problem over there otherwise you will have to pay fine for the same. Do not smoke as this might affect the environment of this sanctuary. You should also not go too close to any wild animal or bird otherwise you will have to face the consequences. You are also not supposed to take along your pets at any cost whatsoever. The use of weapons is not allowed at all at this place. You can visit Gaga Wildlife Sanctuary by various modes like road, rail and by air. Plan your trip to this place and you will surely enjoy a lot. The view of sunrise, as well as sunset, is something that is worth experiencing over here. You are surely going to have the experience of your lifetime and you will never forget the overall experience that you will have. If you are planning to visit it the best time to visit is between autumn to spring. You will see many birds and reptiles that you might have never seen before. Do not let go the chance to visit this beautiful sanctuary at any cost whatsoever. Enjoy your time and see something worth remembering.
SOCIAL LINKS
[aps-social id="1″]