National Parks of Gujarat
There are four national parks in Gujarat and twenty-three wildlife sanctuaries managed by Forest Department of Gujarat. The name of four National parks of Gujarat includes Gir Forest National Park in Somanth, Marine National Park, Gulf of Kutch in Jamnagar, Vansda National Park in Navsari-Dang and Black Bug National Park in Bhavnagar. The major wildlife of Gir National Park is famous for Asiatic lion, Leopard, Spotted Deer, Sambar deer, Blackbuck National Park has Blackbuck, fox, Macqueen's bustard etc., Marine national park has the major wildlife sponges, jellyfish, corals, sea horse, octopus, starfish, oyster, lobster, dolphin etc. and Vansda national park has wildlife hyena, deer, Leopard and Chausingha. Gujarat state is blessed with wildlife, natural sceneries, pleasant weather and lots of spiritual and religious destinations which really attract lots of tourists.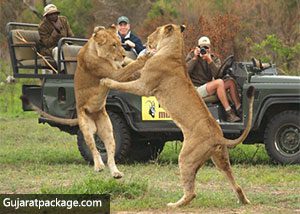 The Gujarat Package provided by tours and travels includes excellent trips with a comfortable stay, beautiful sightseeing in the cost-effective budget. It covers every or maximum tourist attractions in Gujarat. They also provide services like paragliding, par motoring, Trike rides, and many other services. To enjoy the Gujarat trip at the fullest, it is essential to have proper guidance and correct places to travel. As Gujarat is a culturally rich state with great heritage and site seeing with best natural beauty there is much to see in Gujarat, so tourists are welcomed to visit Gujarat with their family, friends, and colleagues and enjoy the memorable trip full of fun and excitement while traveling Gujarat. The tour package also covers the best services with full amenities in the budget-oriented services together with the full responsibility of security services of their tourists. They provide an excellent trip at cost-effective prices with the best deal from the selection of the best hotel to delicious food correctly managed.