Akshardham temple, Ahmedabad
Ahmedabad is the city which has a list of the glittering jewels and the Akshardham temple is one of the most beautiful jewels of the list. A similar temple is located in Delhi which is an exact replica of the Akshardham temple of Ahmedabad. As most of the temples are originated due to an inspiration, this temple has got the inspiration from the Vedic texts. This temple basically compliments the sthaptyashastra.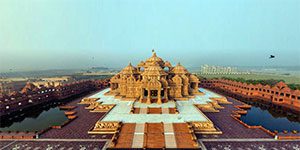 This temple is known as one of the prominent cultural centers of Ahmedabad. This beautiful temple is located in the Gandhi Nagar, Gujarat. This is not only a temple but also encloses the architectural delight in it. The people who love to explore the architectural delight should visit this temple at least once in their lifetime.
The temple is a perfect fusion of exhibitions, research, education, architecture, and art. It is almost a treat to see such a good fusion in Akshardham temple, Ahmedabad. The temple has the murti of Lord Swaminarayan and people come to worship this Murti. Establishment of this temple held in 1992 and from the same day, a lot of people come to see the temple every year. The walls of the temple look beautiful in the light of the rising sun. The pink colored walls shine in the sunlight and give a calming effect to the eyes. People from surrounding areas come for the meditation and exercise because of the lush green gardens around the temple. You can visit the temple in the morning as well as in the evening.