About Dwarikadish Temple
Dwarikadish Temple is located in Mathura. This temple is also known as the Jagat Mandir, occasionally it is called the dwarikadish temple.
It is a Hindu temple, dedicated to Lord Krishna. The main shrine of this temple is five-storied building supported by seventy-two pillars. Janmashtami is the main occasion of this temple. It is celebrated in a very extravagant way, the temple is decorated very beautifully, loads of people visit this temple during this time and it is the best time to visit this temple.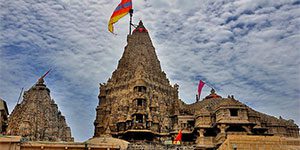 Dwarikadish Temple
Dwarkadheesh is also known by the name of Trilok Sundar or Jagat Mandir. The beautiful temple situated in the lap of Gomti creek is beautiful to watch. According to religious beliefs, it is believed that the temple has been built by the sons of Lord Krishna. The temple consists of the numerous clusters at the base and it is extremely beautiful to watch the temple in the sunset.
Beside it, the central portion of the temple has 5 stories and it takes enough energy to reach to the temple. Though you can visit the temple anytime but if you are planning to visit the temple then keep it in mind that the temple remains closed from 12:30 to 4:00 in the evening. So, you can rest in your hotel in the meantime.
You can enjoy thrManglaDarshan, Abhishek Pooja, ShringarDarshan, Snanbhog, ShringarDarshan, Sheingarbhog, ShringarAarti, GwalBhogDarshan, Rajbhog, UtthapanDarshan, Sandhya BhogDarshan, ShayanbhogDarshan, ShayanAarti and many more.
The temple is located in the area which is easy to approach and there are several means by which you can reach the place. You can use the personal car, train, bus or you can also reach the temple by air. Though all the ways are good to choose you can choose the bus or car. You can also get help from the professional companies which offer the various packages for the tour to Dwarkadheesh temple, Dwarka.
360° View Dwarkadheesh Temple