A diversity of Art and Craft of Gujarat
In the state of rich culture and custom, the Arts and Crafts of Gujarat are of tremendous significance from visual as well as professional point of view. On a Trip to Gujarat, one might discover that due to the coastal base of the state, the business prospered far and wide up to the western quarters of the world and the arts and crafts have ever since established their competence all over the world.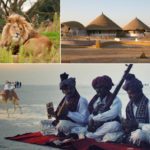 The arts and crafts have a rich cultural past and connected to the present modernity look. One can discover a different variety of Embroidering with inheriting talent with a unique style of needlework and traditional arts. Stonework, Woodcarving, jewellery etc. are the other areas that make Gujarat, a classic hub of traditional arts and crafts.
Gujarat experiences an artistic familiarity where the work of art results with the formal interest and commemorative interest making way together. Gujarat appears unique with its verbal or non-verbal arts – a combined mixture of aesthetic appeal. It is renowned for its dyeing, printing, pellet and mirror work apart from traditional Bandhinis and Patolas which has a hand weaved art for the traditional wear. Completely attractive and useful, works of art in Gujarat differs commonly in the ratios of its styles to the factor of Painting, Sculpture or any other – mixture with beauty and effectiveness.
SOCIAL LINKS
[aps-social id="1″]